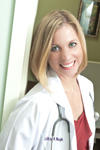 Chrissy G. Fohr, RN, MSN, NP-C
Master of Science, Adult Nurse Practitioner
University of North Carolina at Charlotte, Charlotte, North Carolina
Bachelor of Science in Nursing
East Carolina University, Greenville, North Carolina
Chrissy is the owner of Lake Norman Pain & Weight Management.  She is a board certified Adult Nurse Practitioner by the American Academy of Nurse Practitioners. She obtained her undergraduate nursing degree from East Carolina University located in Greenville, NC and master's degree in nursing at the University of North Carolina at Charlotte. Chrissy is an engaging healthcare provider who strives to help others achieve their maximal functioning, whether through pain or weight management or both.  She provides care that is individualized and realistic.  In Chrissy's spare time she enjoys being with family and friends.
Daniel J. Bernstein, MD
Supports our practice as a supervising and clinical physician
Our team is cross trained in order to provide you the best service possible. Your needs may be met by any of these individuals!
Ashley is our Administrative Assistant.  She welcomes you when you walk into the office. She answers many of your calls and is the referral coordinator for new patients. She supports the office in many other ways!
Aleshia is the clinical assistant who work with both pain and weight loss patients. She helps prepare patients for their visits and handle prior authorizations for procedure and medications and help prepare any required paperwork for medical care. She welcomes each patient with a smile and is always here for support.